Precision Launches CellRadHD – The Next Generation High-Dose Benchtop Irradiator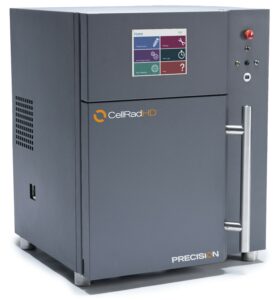 Madison, CT, USA, May 10, 2023, Precision X-Ray, Inc. ("Precision"), a global leader in cabinet X-ray irradiators, is excited to announce the launch of CellRadHD, our next generation benchtop irradiator with integrated dosimetry and dose control, offering the highest dose available in a benchtop unit.
With over 20 years of experience and market leadership in biological X-Ray cabinet irradiators, Precision continues to push the boundaries with the addition of the CellRadHD. The higher dose of the CellRadHD accommodates various sample sizes for cell and tissue irradiation and overall increases throughput. With integrated dosimetry and Automatic Dose Control software, users can expect repeatable and reproducible results across experiments.
"Precision prides itself on anticipating our customer's needs. Combining advanced features with a benchtop design allows researchers to place the CellRadHD right next to the incubator, helping labs maintain safety and security, while maximizing workflow. CellRadHD also comes with improved power, increasing throughput, a critical feature in feeder cell and stem cell development." said Viktoriya Baytser, CEO.
About Precision
Headquartered in Madison, Connecticut, Precision X-Ray, Inc. is the largest dedicated manufacturer of cabinet x-ray irradiation systems, providing safe, reliable, and reproducible results. Since the turn of the century, we continue to provide thousands of partners around the world with products that lead technological innovation in commercial, agricultural, and academic irradiation treatment fields.
It is our mission to innovate and develop next-generation x-ray technology to inspire new and daring research in the global fight against disease as well as other critical, multi-industry applications in a wide array of emerging fields.
For more information about the new CellRadHD system and other Precision products and services, please contact Debra Peris, Marketing Manager at dperis@pxinc.com