SMART+ OPTIONS
Advanced Treatment Planning
Upgrade your system with Advanced Treatment Planning (ATP) featuring state-of-the-art Monte Carlo calculation algorithms. Rapidly devise treatment plans with sub-millimetric accuracy for static beams, arcs, and non-coplanar treatments across single and multiple isocenters. Proven technology since 2009.
key Features
Most used small animal Monte Carlo calculation engine
Image acquisition for fluoroscopy, CBCT, and BLI
Volume overlays with external imaging systems
Dose map generation
Isodose contours
Dose volume histograms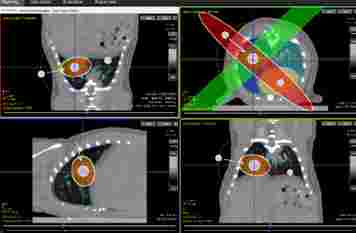 Image Fusion
With Co-Pilot registration software, users can combine DICOM images from other modalities like MRI, PET, SPECT, and Ultrasound with SmART+ CBCT images to improve targeting accuracy.
key Features
Multi-modality imaging guidance
Identifies sensitive and tumor tissues with CBCT and BLI
Increases the therapeutic window
Spares healthy tissue, while maximizing tumor necrosis
Can be combined with on-board CT or external imaging
Consistent treatment delivery